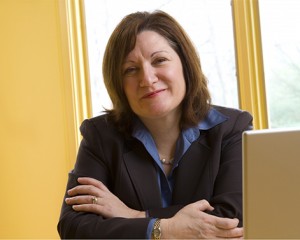 A former practicing attorney, Mary Kaczmarek has a passion for coaching lawyers to higher levels of career satisfaction and success. Through Skillful Means Marketing – a Charlotte-based legal consulting firm of which she is the president– she offers business and professional development training, strategic marketing consulting, and individual coaching to law firms and attorneys seeking to improve their practices and attract ideal clients. In March 2015 Mary was recognized by readers of The National Law Journal as the country's top business development trainer and coach. In 2013 she published her first book, Take Charge of Your Legal Career: A Practical Business Development Workbook, which is recommended by NALP: The National Association for Law Placement.
Mary began her marketing career in 1994 at Thompson Hine in Cleveland after practicing corporate bankruptcy law with the firm for seven years. She was also corporate counsel at the former Ameritrust National Company Association (now part of KeyCorp) for two years. Mary served as marketing director at Thompson Hine for five years and her leadership of the marketing function was recognized by a nationally known consultant to law firms as "far superior to other similar firms' marketing capabilities." In 1999 Mary was recruited by Charlotte-based Kennedy Covington (now part of K&L Gates), and she served as the firm's director of business development until 2003 when she left to launch her consulting practice.
In connection with group training and individual coaching, Mary is certified to administer the WorkPlace Big Five Profile™, an assessment tool developed at the Center for Applied Cognitive Studies specifically for use in the work place. The personality assessment addresses work place behaviors such as client service, sales, communication, supervision and conflict resolution. Mary has been recognized by the Center as a Master Trainer.
Mary is a graduate of Fordham University School of Law, and received her undergraduate degree summa cum laude from LeMoyne College in Syracuse, NY. She has been a member of the Charlotte Women's Bar and the Legal Marketing Association. Mary has presented at leading national industry conferences including the Legal Marketing Association's regional conferences, the NALP annual education conference and the NALP Professional Development Institute. She has authored numerous articles on marketing and professional development topics including most recently, "Shifting the Law Firm Business Development Paradigm," published in Law360.