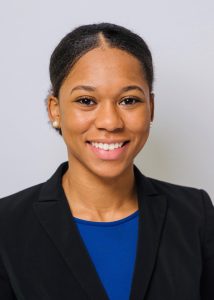 Najmah is a third-year law student at University of Maryland Francis Carey School of Law Class of 2022 where she is focusing on mediation and alternative dispute resolution. Najmah is currently working as a Summer Associate assisting the firm in resolving workplace issues for clients through culture audits/climate assessments, investigations, training, coaching and special projects. Najmah has worked on workplace conflict resolution, climate assessments and investigations involving discrimination, harassment, diversity and inclusion, etc.
Najmah worked as an administrative and executive assistant for EPT Legal while in college. Soon after graduation, Najmah was promoted to Paralegal and thereafter Investigator, Facilitator and Coach rolling out training and coaching programs. As a valued member of the team, Najmah also runs EPT Legal's front office, communicates with clients, assists in developing and rolling out training and coaching programs, and is an all-around problem solver for the firm. She is a member of the Association for Workplace Investigators and is certified in conducting investigations by the Employee and Labor Relations Academy. She is certified in Hogan Assessments, a personality assessment that allows our coaches to help professionals develop within the workplace. She is also a notary public. Najmah worked as a legal intern at the U.S. Equal Employment Opportunity Commission at the Office of Commissioner Charlotte Burrows, Chair of the EEOC and as a student attorney at the National Association for the Deaf.
Najmah graduated magna cum laude from Pace University with her Bachelors in Science degree in Criminal Justice. While at Pace, Najmah was a member of the women's lacrosse team.  She was a council member for the Athletics Diversity Committee, through which she advocated diversity matters within the athletics department and a peer leader for the University's Freshman Seminar, through which she mentored freshman throughout their first year in college. Najmah also participated in undercover sting operations while interning at the Ossining Police Department.