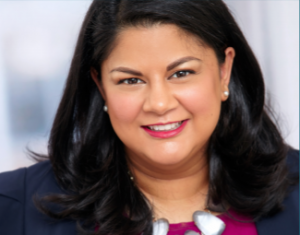 Naveen Kabir is a seasoned attorney, workplace investigator and facilitator with over a decade of experience resolving workplace disputes. She assists the Firm's clients as a Senior Investigator with the firm's New York office and heads up EPT Legal's California investigation, training, and workplace resolution practice. She is an Association of Workplace Investigators Certificate Holder (AWI-CH) and has conducted hundreds of witness interviews in matters involving allegations of harassment, discrimination, retaliation, whistleblowing, compliance, wage-and-hour issues, and other allegations misconduct. As a trial attorney, Naveen litigated employment law issues before federal and state courts and administrative agencies in New York, California and Virginia, and has taken cases from inception to trial.
Naveen has expertise with allegations arising under: The New York State and City Human Rights Laws, the California Fair Employment and Housing Act, Title IX of the Education Amendments of 1972 and New York State Labor Law. Naveen has extensive experience across many industries, with a focus on resolving issues for clients in the Financial Services, Insurance Technology, Entertainment, Hospitality and Healthcare industries. Naveen also performs culture assessments, salary/pay equity audits, and conducts trainings on EEO Diversity and Inclusion topics. Prior to joining EPT Legal, Naveen practiced management-side employment law at prestigious national law firms, and did plaintiffs work at the ACLU and as a Staff Attorney Fellow of Legal Momentum in New York, where she represented plaintiffs in gender discrimination claims in federal court and before the EEOC.
Naveen received her Juris Doctorate from Georgetown University Law Center and her Bachelor of Arts in Human Biology from Stanford University. She is admitted to practice law in New York and California and the U.S. District Courts for the Central District of California, the Northern District of California, the Eastern District of New York, the Northern District of New and the Southern District of New York.  Naveen is a fluent Bengali speaker with experience conducting witness interviews in Bengali.
Honors
Leadership Council on Legal Diversity (LCLD), Fellows Program (2016)
New York Metro Rising Star, Super Lawyers® (2014-2020)
Professional & Civic Associations
American Bar Association
New York City Bar Association
South Asian Bar Association of New York
Los Angeles County Bar Association
For a list of training programs Naveen has attended to comply ith Title IX Regulations 34 CFR Section 106.45(b)(10): http://www.eptlegal.com/title-ix-credentials/