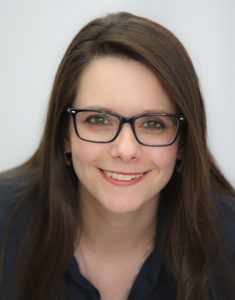 Elena Paraskevas-Thadani, Esq.
EPT Legal, LLC was founded by Elena Paraskevas-Thadani, an experienced employment attorney with over 20 years experience in the legal profession.
Training
Elena is an experienced trainer having conducted and developed hundreds of Equal Employment Opportunity trainings on professional conduct, nonharassment, diversity, litigation avoidance and other employment compliance topics. Elena brings over two decades of litigation experience to her compliance trainings, and develops and delivers fun, educational, interactive and customized programs for her clients.
Coaching
As a certified an experienced executive coach, Elena has assisted company leaders, C-Level executives, law firm partners and service professionals manage their teams more effectively, build their influence in their field, and increase their business development success. Elena is an adjunct coach with Skillful Means Marketing, LLC, voted the #1 coaching service for attorneys in a recent New York Law Journal survey, among other awards and accolades.
Mediation
Elena is an experienced mediator certified by the United States District Court for the Southern District of New York and by the New York Peace Institute. She specializes in employment cases such as wage and hour disputes, discrimination, whistleblower, restrictive covenant and class action lawsuits.
In addition to her experience in private practice, Elena served as a law clerk to two neutrals who are members of the federal judiciary: The Honorable Andrew J. Peck, United States District Court for the Southern District of New York (2000-2002) and The Honorable Nicholas Tsoucalas of the US Court of International Trade (1997-1999).
Investigations
Elena has worked with hundreds of companies to conduct sensitive workplace investigations involving allegations of wrongdoing against C-Level and other executives. Elena is an Association of Workplace Investigators Certificate Holder (AWI-CH).
Additional Background
Elena previously practiced plaintiffs' and defendants' general commercial litigation and employment law at Katten Muchin Rosenman (2002-2005) and Seward and Kissel LLP (1999-2000). She worked for Kaplan Fox, a plaintiffs' class action law firm as a summer associate in 1996.
Elena is a former equity partner of the law firm Littler Mendelson, the largest global employment and labor law practice in the world. She is a graduate of Fordham College ('95) and Fordham Law School ('97). While at Fordham Law, Elena founded the Fordham Law Chapter of the Unemployment Action Center, through which she provided pro bono advocacy to unemployment insurance claimants, and also worked as a student advocate at the Northern Manhattan Improvement Center, where she provided services and representation to public assistance applicants and recipients. Elena also served as an intern with EDNY Judge Frederic Block (1995), EDNY Magistrate Judge A. Simon Chrein (1996) and the EDNY US Attorney's office (1996-1997).
Latest News
1
Jul
  EPT Legal Investigators, Debra Osofsky and Jodi Morales, earn their Investigation Certifications from Employee and Labor Relations Academy.
Testimonials
I enjoyed the training session. My co-workers have attended previous sessions. They had good things to say and they were right.

Elena facilitated the training session in a way that kept it moving quickly, which encouraged the participants to be more engaged.

The training course brought out ongoing issues that I thought I knew very well and taught me many new things.

Elena is a great speaker and presenter. She did a good job keeping me engaged in the conversation.

The training session was well-structured, very engaging, and not cliché.

The training session was very entertaining and motivating. It had good pacing and kept my interest.

The training session had good content that was well organized with good points of communication while staying at a good length.

Elena is an excellent public speaker.

I think the interactive nature of the presentation was better than just being presented with rules.

Elena provided a great training course that was valuable for our nature of work.

Elena was very attentive to questions. It made the training interesting and very interactive.

The course allowed knowledge exchange, was very interactive, and gave great examples that required group participation.

This was an excellent course. Well presented and useful. The pace was good, [there was] time to understand the message but kept moving along.

The training provided wonderful questions that got us to think.

The course material was very well delivered once Elena made it feel comfortable.

Elena is a great speaker and presenter, she did a good job keeping me engaged in the conversation.

Elena conducted a good presentation that helped to create an awareness of our effect on company culture.

Excellent, informative, and 'fun' for an at-work training session.

Elena conducted a great program. It was Informative and helpful.

Elena was great at explaining the topic and keeping the group involved.

The training session was very informative and detailed regarding every topic and situation spoken about.

I think this training session will really help our employee interactions moving forward.

There was a great explanation and definition of the course material. The presentation was easy to follow, clear, concise, fun, interactive, and the presenter was knowledgeable.

The training course was very good and it opened my eyes to things I did not realize were wrong.

The material and content of this training session were very relevant to our workplace and industry. Elena is a great presenter and very personable.

I found [the training session] interesting and well put together. It challenges us on a sensitive subject and I think that we need more of that in the world.

The training was laid out well and easy to follow. Oral presentation was great and was interesting to see how people perceive the same situation differently.

Elena was very well informed and an excellent presenter. She encouraged a very open discussion and back and forth conversation with the audience.

Elena did a fantastic job. This challenging topic was delivered in an engaging, charismatic way. She is very knowledgeable.

The training session was very informative. Elena was able to make a tough, potentially difficult topic very user friendly and informative.

The course made me think about different situations that I have experienced and how to handle it better in the future.

Talking through rough topics and ramifications of actions in the workplace was very informative and helpful.

I like how Elena is an attorney which builds credibility.

Elena was very well prepared and is an excellent public speaker. The course content was good and was presented in an easy to understand manner.

Excellent content and enthusiasm from Elena. She did a good job of keeping the audience engaged.

Engaging Course! It brings the opportunity to have conversations about hard topics in an educational manner.

Elena is an amazing presenter and keeps the content interesting.

Elena performed one-on-one executive coaching when necessary in highly sensitive situations.   Elena is very thoughtful and poised, with the ability to diplomatically render advice firmly and clearly.  She has been key to this effort.  Elena is highly intelligent and intuitive and is a genuine delight to have as a colleague and partner in urgent and difficult employee relations situations.  I recommend her  highly and would seek to maintain a strong advisory relationship with Elena in the future.

Elena is an extremely effective coach… she understands the business goals as well as the legal risk and collaborates with clients to achieve the best result.

Smart, empathetic and skilled – Elena Paraskevas-Thadani is not only a talented attorney, she is an excellent business developer and professional development coach to other attorneys and professionals. The quality of caring that Elena brings to all aspects of her work combined with her native intelligence makes her a unique service provider.

Elena has worked with [international bank] for [10] years and worked mostly closely with me and my senior team to develop and conduct non-harassment, professional conduct and other employment compliance trainings for our New York Headquarters.  I found Elena to be an outstanding attorney with an ability to leverage her expert knowledge of employment law with practical considerations arising from complex situations. The impact from her training has had an immeasurable effect on management behavior and has provided a very  strong risk prevention and mitigation stance for the firm.

Elena is an excellent career consultant and has been tremendously helpful in my career development.  With her extensive experience  and her in-depth understanding of the legal industry, she provided valuable advice to help me conquer the challenges I constantly face as a foreign attorney practicing in the United States. In particular Elena helped me expand my influence and develop my business development skills.  I strongly recommend Elena to anyone who needs assistance in career development, business origination and those who want to achieve their professional goals in a more effective way.

I want to acknowledge attorney for her professionalism while handling my litigation. Lawsuits can be very uncomfortable and stressful while you are going through the process. EPT Legal made me feel very comfortable and kept me informed about the case every step of the way. I would be proud to refer my family, friends and even strangers to EPT.